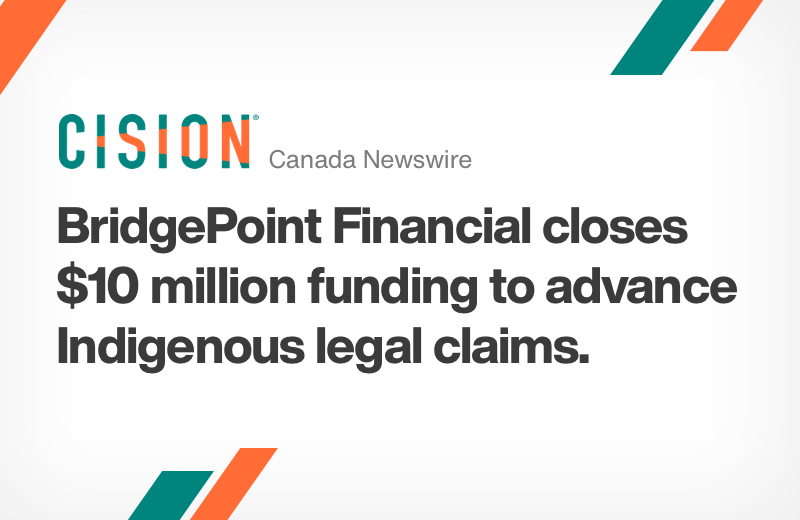 April 13, 2023
TORONTO, April 13, 2023 – Canadian legal funding specialist BridgePoint Financial Services Inc. ("BridgePoint") is pleased to announce the closing of a $10 million financing with Calgary-based Maurice Law, Canada's first and only Indigenous-owned national law firm. The transaction is part of a broader financing program established by BridgePoint in association with Maurice Law to promote access to justice and to expedite the fair and just settlement of First Nations' legal claims against Canada based on outstanding treaty obligations and other historic grievances.
Maurice Law has achieved a solid track record of success in advocating on behalf of our First Nations clients. Notwithstanding government promises for a more streamlined legal resolution process over the past decade, the wheels of justice continue to turn at a glacial pace for many First Nations communities who simply can't afford to pursue these cases independently," says Ron Maurice, Founder and Senior Partner at Maurice Law. "This funding commitment from BridgePoint follows a model of third-party financing for First Nations litigation that Maurice Law pioneered. It will be an invaluable resource to assist us in levelling the playing field for First Nations and pursuing fair compensation for our clients who have suffered enormous economic hardship and social injustice as a result of the myriad breaches of the Indian Act, treaties, and fiduciary duties of the Crown in administering reserve lands and other assets for First Nations."
Key to the program is a bespoke legal expense insurance policy that offers added security to provide Maurice Law with the funding it requires to advance claims for First Nations on a "no win, no pay" arrangement. This is critical to promoting access to justice because the costs of researching and litigating these historical claims on behalf of First Nations can be prohibitive. This tailored approach to litigation financing significantly reduces risk to lenders and provides peace of mind for Maurice Law and its clients.
"We are very pleased to extend our financial support to Maurice Law and its clients through this $10 million financing, which is modelled on various case-specific funding transactions we have provided to date. BridgePoint has enjoyed a long, supportive relationship with the firm, and our increased commitment to this program reflects our belief in their experience and leadership in the enormously impactful arena of Indigenous law," says Stephen Pauwels, Co-founder and Principal at BridgePoint.
"We view ourselves as innovators in the legal finance market, and this was a sophisticated deal involving highly specialized legal expense insurance coverage. We are very pleased with the result and the opportunity to further our support of Maurice Law and their clients. We hope the program will make a significant, positive impact for First Nations in their pursuit of justice for their meritorious claims," concludes Pauwels.
-30-
For media enquiries, please contact Tim Andrews | andrews@bpfin.com | +1 519 865 0887
All Blog Posts